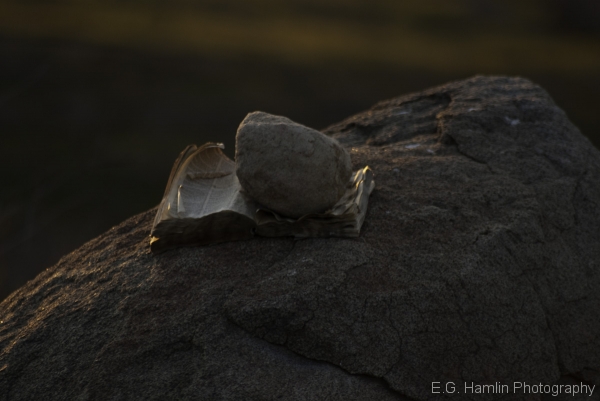 Seman­tics or not…that is the ques­tion. If a fol­lower of Jesus says he or she is seek­ing God's will, is that putting the prin­ci­ples before the prin­ci­ple maker? I have found time and again when I set my mind to fol­low God's prin­ci­pals with­out first seek­ing the prin­ci­pal maker…I stumble.
 Think about it: If the prin­ci­pals are what are sought first, who gets the glory, the prin­ci­pal maker, or the prin­ci­pal follower?
A cou­ple of analogies:
Anal­ogy one: You meet a per­son who says as a teenager he/she strug­gled to resist the temp­ta­tions of peer pres­sure. The per­son goes onto to share that they chose to obey their father's rules instead, which afforded them a bet­ter life that they are now liv­ing. In the pur­suit to do what is hon­or­able, the empha­sis is placed on the teenager to choose wisely and to imple­ment the prin­ci­pals taught by the father. In this sit­u­a­tion the response may be a pat on the back for choos­ing wisely. Please under­stand while the choice is hon­or­able; the ques­tion is…who gets the glory?
Anal­ogy two: You meet that same teenager except this time its revealed he/she couldn't resist the pres­sures and admit­ted this to their father. The father in turn helped them to resist, which afforded them a bet­ter life that they are now liv­ing. Per­son­ally, I would want to meet the father, as such, the glory goes to the father.
 The scrip­ture says:
"I am the true vine, and my Father is the gar­dener. He cuts off every branch in me that bears no fruit, while every branch that does bear fruit he prunes so that it will be even more fruit­ful. You are already clean because of the word I have spo­ken to you. Remain in me, and I will remain in you. No branch can bear fruit by itself; it must remain in the vine. Nei­ther can you bear fruit unless you remain in me.

"I am the vine; you are the branches. If a man remains in me and I in him, he will bear much fruit; apart from me you can do noth­ing. If any­one does not remain in me, he is like a branch that is thrown away and with­ers; such branches are picked up, thrown into the fire and burned. If you remain in me and my words remain in you, ask what­ever you wish, and it will be given you. This is to my Father's glory, that you bear much fruit, show­ing your­selves to be my dis­ci­ples. — John 15:1–8 
 The Apos­tle Paul under­stood he could do noth­ing apart from the Father, and that the only one who could save him was Jesus Christ our Lord.
 We know that the law is spir­i­tual; but I am unspir­i­tual, sold as a slave to sin. I do not under­stand what I do. For what I want to do I do not do, but what I hate I do. And if I do what I do not want to do, I agree that the law is good. As it is, it is no longer I myself who do it, but it is sin liv­ing in me. I know that noth­ing good lives in me, that is, in my sin­ful nature. For I have the desire to do what is good, but I can­not carry it out. For what I do is not the good I want to do; no, the evil I do not want to do—this I keep on doing. Now if I do what I do not want to do, it is no longer I who do it, but it is sin liv­ing in me that does it. So I find this law at work: When I want to do good, evil is right there with me. For in my inner being I delight in God's law; but I see another law at work in the mem­bers of my body, wag­ing war against the law of my mind and mak­ing me a pris­oner of the law of sin at work within my mem­bers. What a wretched man I am! Who will res­cue me from this body of death? Thanks be to God—through Jesus Christ our Lord!   So then, I myself in my mind am a slave to God's law, but in the sin­ful nature a slave to the law of sin. –Romans 7:14–25 
 I'll end with this short story. A few days ago I was in my back­yard with my hus­band pulling weeds. There was one par­tic­u­lar weed I could not pull out because the root ran too deep. The first thing I had to do was admit I couldn't do it. The sec­ond thing was to accept help. Now, I could have cho­sen to be stub­born and tugged it out not get­ting the root, and it would've only come back. Sim­i­larly, admit­ting we are weak isn't telling God any­thing He doesn't already know—it's just stand­ing in agree­ment with Him.
 But he said to me, "My grace is suf­fi­cient for you, for my power is made per­fect in weak­ness." There­fore I will boast all the more gladly about my weak­nesses, so that Christ's power may rest on me. — 2 Corinthi­ans 12:9 
God bless,
–gh

I am a fol­lower of Jesus Christ. I am a wife to Ed Ham­lin and we are two becom­ing one. I am the daugh­ter of a coura­geous woman who con­tin­ues to bat­tle breast can­cer with the sword of the Spirit and a sense of humor. I am blessed to be the mother of two adult-children who stir thank­ful­ness in my heart every day. I am the proud grand­mother of: Eme­line Sophia Munn, Adrian Robert Bunn, and Isla Eliz­a­beth Munn. I also have three bonus adult-children (we're a blended fam­ily) and five lit­tle ones to love on: Madi­son, Alekzan­der, Jay­den, Kalob, and Jor­dan — the grand­chil­dren. I enjoy a rainy day at home in front of a roar­ing fire in the fire­place with my hand­some man snug­gled up next to me as we share a lus­cious dessert and watch Hitch­cock movies back-to-back. (Yes, that's a run-on sen­tence. Hehe.) Hugs to my in-laws: the Ranieri's (Joe and Lydia), who model mar­riage so lov­ingly. I believe Mar­riage Takes Three…God, hus­band and wife.